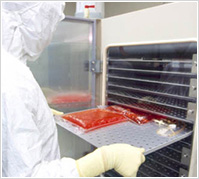 Blood, collected from a patient, is transferred to cell cultivation facility, called Cell Processing Center ("CPC") in order to cultivate immune cells. Within the CPC, the clean condition is maintained by latest air-conditioning technology. First, immune cells are separated by centrifugation, and then are activated and cultivated in the CPC for about 2 weeks.
Immune cells, especially T-Lymphocyte, are expanded more less a thousand times as many lymphocytes as pre-cultivated cells through 2 weeks cell-processing. Amount of expanded immune cells will be reached at nearly 5 billon cells. After such cultivation, we infuse such immune cells back to the patient when he/she visits our clinic. At the same day of infusion, we re-collect blood from the patient for next cultivation of immune cells. We repeat this process at 6 times for 1 course. Normally, it takes 3 months to finish 1 course, but please note that we generally decide frequency of the therapy with a patient by doctor consultation.
In fact, schedule for cultivation of immune cells is determined for 2 weeks through "Try and Error" process to analyze morphology and function of the cultivated cells. For example, although 1 week cultivation has sufficient cell morphology and function, number of immune cells to be infused is inadequate. In contrast, when cultivation time of immune cells are 3 or 4 weeks, population of helper T cells will be decreased among expanded immune cells, resulting low quality of immune cells.

Since cell therapy, including Immuno-Cell Therapy, makes use of autologus cells, which are cultivated outside of the body and reinfused back to a patient, quality and safety of processed cells must be assured. Therefore, we must ensure appropriate safety and quality control over cell cultivation in the CPC.
We enable medical practice of Immuno-Cell Therapy by the service, "Immuno-Cell Therapy Total Support Service," from MEDINET Co., Ltd ("MEDINET.") MEDINET's service is comprehensively providing facilities, equipments, technical know-how and IT system utilized for cell-processing. In other words, MEDINET provides not only hardware but also services to support required procedures for safely performing cell-based treatment in a medical institution. Such supporting services have received ISO9001 certification, the international standards for quality management system established by the International Organization for Standardization.
To ensure safe and stable operation of high quality cell processing at the CPC, we also ensure that facility and equipment standards are set in accordance with Good Manufacturing Practice - the industry standard for manufacturing and quality control of pharmaceuticals and quasi-drugs. Additionally, we have adopted common Standard Operation Procedures for our sophisticated operation and process control. This assures quality of Immuno-Cell Therapy for our patients with the same standard at all of our clinics.

Introduction to facilities and equipments in CPC are listed as followed;-
24 Hours Monitoring System
Entrance to Clean Room
Air Lock

24 Hours monitoring System is a IT system to monitor;- 1)temperature of storage cabinet for culture media and agents, 2)temperature and carbon dioxide concentration of CO2 Incubator, and 3)temperature of Culturing Room and Quality Control Room.

Door on Left Side :
Pass Room for Material (Air Locked)
Pass Room for Material is separated from entrance of culturing engineers in order to prevent any contaminations.

Doors on Right Side :
Gowning Room for Cell Engineers
Cell engineer must pass through; 1) First Gowning Room, 2) Second Gowning Room, 3) Anteroom, and 4) Air Lock in order to access Clean Corridor within the CPC. By facilitating these rooms to enter the CPC, we enable maintenance of cleanness within the CPC.

We minimize inflow of outer air by setting Air Lock between rooms.

Differential-Pressure Meter
Clean Corridor
Culturing Room

Inflow of outer air is prevented by differential-pressure between outside and inside of CPC and/or Rooms. For example, air pressure inside of Room is controlled as positive pressure. On the other hand, air pressure of Clean Corridor is controlled as negative pressure, so that air can not flow between Rooms. Inside of the CPC is stabilized at the same clean level of manufacturing Sterile Pharmaceuticals.

Clean Area is more than 200m3wide of CPC, which is about 400m3wide. The CPC is facilitated for Culturing Room, Storage & Preparation Room, and Quality Control (Sterile Testing) Room.

Major Device

Biological Safety Cabinet (ClassII)
CO2 Incubator
Centrifuge
Microscope

Scene 1 of Operation in Safety Cabinet
Scene 2 of Operation(Monitoring of Culturing Bag)
Storage & Preparation Room

The picture on left side that cell engineer changes culturing scale of lymphocytes from flask to culturing bag. All cell handling processes are conducted in accordance with SOP.

The picture in the above shows that cell engineer checks color and turbidity of medium in culturing bag. All cell handling processes are conducted in accordance with SOP.

Quality Control (Sterile Testing) Room
Scene 3 for Operation (Quality Test)

Major Device (Picture is taken in Culturing Room)

Biological Safety Cabinet (ClassII)
Refrigerator (-30°C)
Microscope
Incubator
Other Testing Equipments

Quality and safety inspection, including sterile testing, are conducted at each stage of culturing process by inspection engineers. In order to clarify responsibility for quality and safety assurance, inspection engineers are organizationally independent from department of cell engineer.